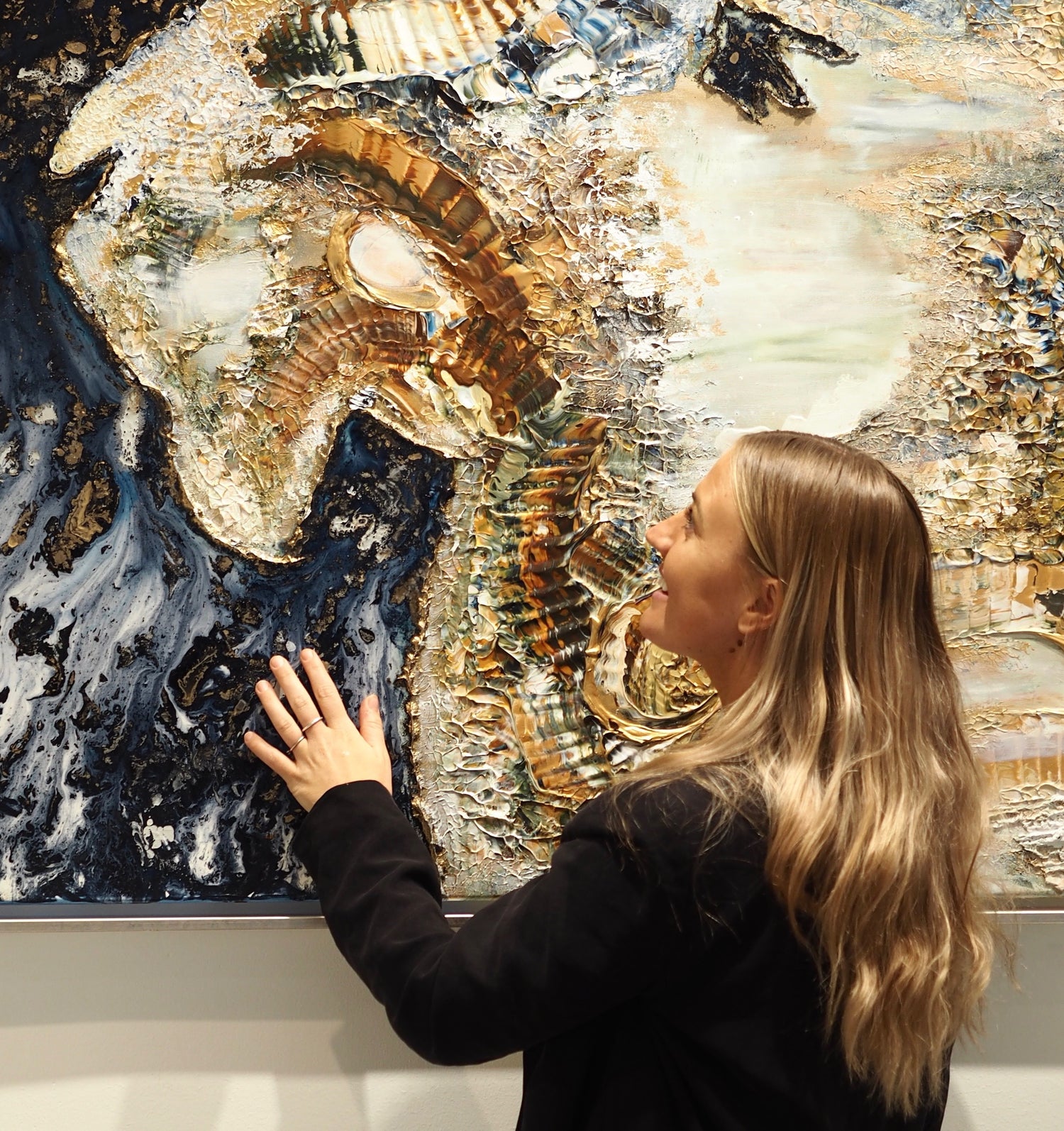 Amanda Egnell
Amanda Egnell was born and raised in Gothenburg, close the sea where she has drawn much of her inspiration.
Amanda creates based on impulse and passion where she trusts her instinct and the creative process. Her art is colourful, powerful and full of energy and the paintings become stylish features on the walls they cover.

Amanda has exhibited her works both in Sweden and abroad. She has sold paintings to over 10 countries and runs her own gallery "Galleri Egnell" at Olivedalsgatan 22 in Gothenburg.

She is current with two different series: From above and Expedition Abstrakt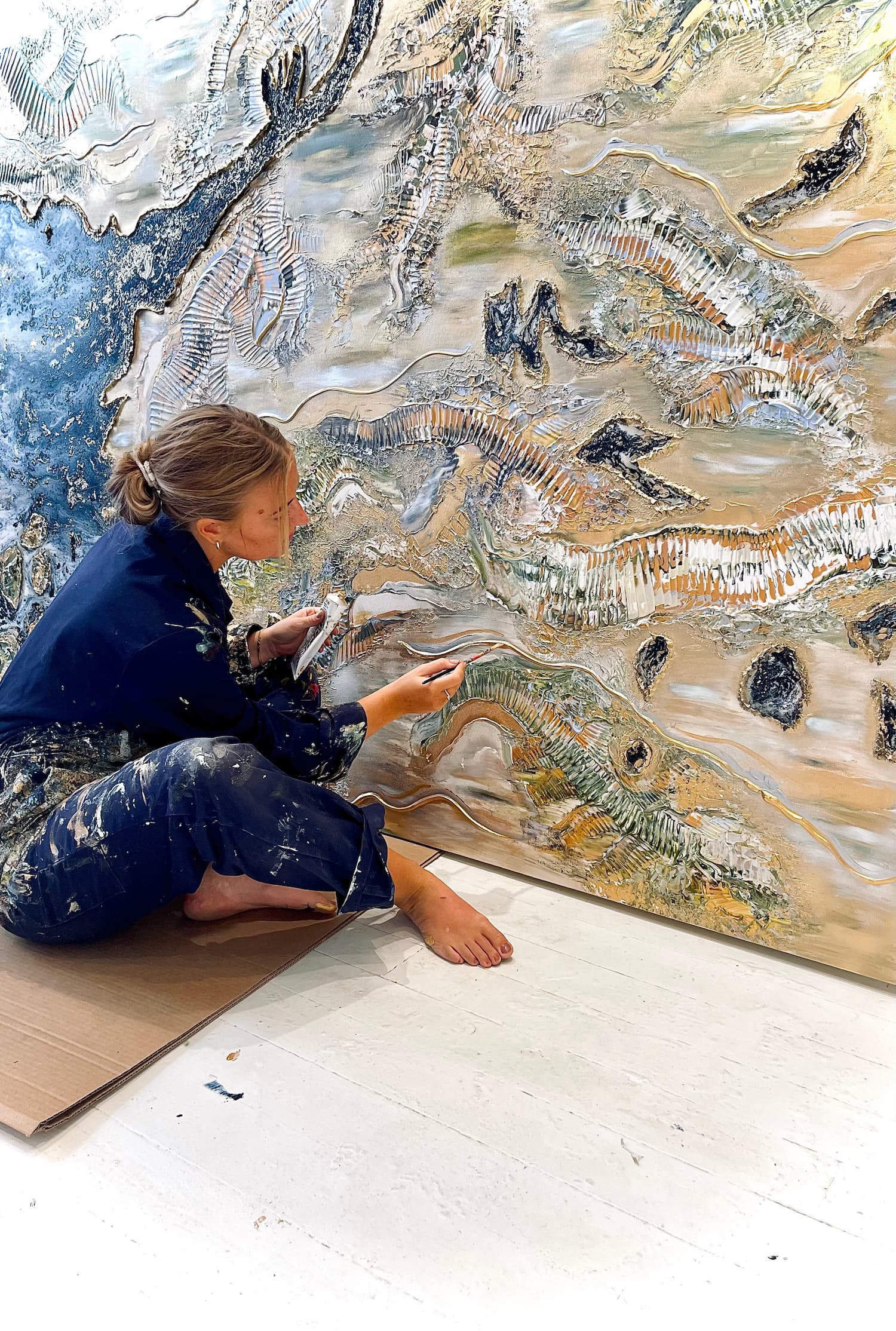 Art series
The series From Above depicts nature and places we hold dear from a bird's eye view, where the abstract meets reality.

Expedition Abstract is inspired by nature and various precious stones. The paintings symbolize movement, feeling and life, and the interpretation lies in the eyes of the beholder.
See the series here
Previous and upcoming exhibitions
Upcoming
29/6- 2023 Exhibition Kabusa Art Gallery Österlen
17/2-22/2-2023 Exhibition Gallery 53 Stockhlólm
20/1-2023 Vernissage Interart Victor Hasselblads gata 11 Gothenburg
Previous
1/7-31/7-2022 Exhibition Tjolöholms Castle Gothenburg
18/4-2022 Easter Vernissage Gallery Egnell
14/4-1/6-2022 Exhibition Kabusa Art Gallery Österlen
11/12-2021 - 18/1-2022 Exhibition Skanshof Gothenburg
25/11-2021 Vernissage - Eklund Gothenburg New York​
4/11-6/11-2021 Fields Copenhagen in collaboration with Philips TV
14/10-16/10-2021 Stockholm's central station in collaboration with Philips TV
7/9-3/10-2021 Exhibition - The Gallery Gothia Towers Gothenburg
2/9-3/9-2021 Exhibition in collaboration with Eklund Gothenburg- Björnholmen's marina Tjörn
2/7-11/7 -2021 Exhibition Strandverket Marstrand
17/4-24/4-2021 Exhibition Gallery Grip Stockholm
1/9-30/10-2020 Exhibition FROM ABOVE - Femman Nordstan Gothenburg
26/6-3/7 2020 Exhibition Strandverket Marstrand
12/6- 2020 Vernissage FÄRGFEST
30-31/5-2020 Exhibition Art Forest
28/2-2020 Opening opening Gallery Egnell
20/10 – 2019 » Vernissage Room 26. Carnergiegatan 16 Gothenburg
15/11 – 2017 » Office interior Sandberg & Trygg, Kungsportsplatsen 1
3/10-31/10 – 2017 » Scandic Nord Helsingborg
26/5 – 2017 » Vernissage Clarion Hotel Fregatten Varberg
14/4-17/4 – 2017 » Konstrundan in Kristianstad
17/11-15/12 – 2016 » Scandic St Jörgen Malmö
18/10-14/11 – 2016 » Scandic Nord Helsingborg
30/9 – 2016 » Restaurant Aptit Kristianstad
22/8-18/9 – 2016 » Stora Enso Pappersbruk art association